Updated:
The owner of the car was Rohaizad Md Sofar but the victim who was trapped and died in the car was Tajudin Zainal Abidin.
Published: Friday June 7, 2013 MYT 11:32:00 PM
Updated: Friday June 7, 2013 MYT 11:48:04 PM
Penang ramp collapse: Dad was on the way home with dinner, says tearful daughter
By KIATISAK CHUA
GEORGE TOWN: The victim killed in the collapse of the Second Penang Bridge's flyover ramp was on his way home after buying dinner at a hawker centre in Bayan Lepas.
Nur Aina Syazwani, 11, the daughter of the late Tajudin Zainal Abidin, said her father called home at 6.30pm to ask what they wanted to have for dinner.
"But by 8pm, he did not return home," said Syazwani.
Tajudin's wife, Sharifah Ramli then went out to search for him.
Sharifah refused to talk to the press.
Bayan Baru MP Sim Tze Tzin said that Sharifah told him that she continued calling him but there was no reply.
"When it was revealed that the car crushed under the rubble was a silver Kelisa, she had a very bad feeling," Sim said.
He added that she was almost sure something had happened to Tajudin after seeing pictures of a partial car number plate on the Internet.
The body of Tajudin will be buried at the Kampung Perlis cemetery in Bukit Merah Saturday.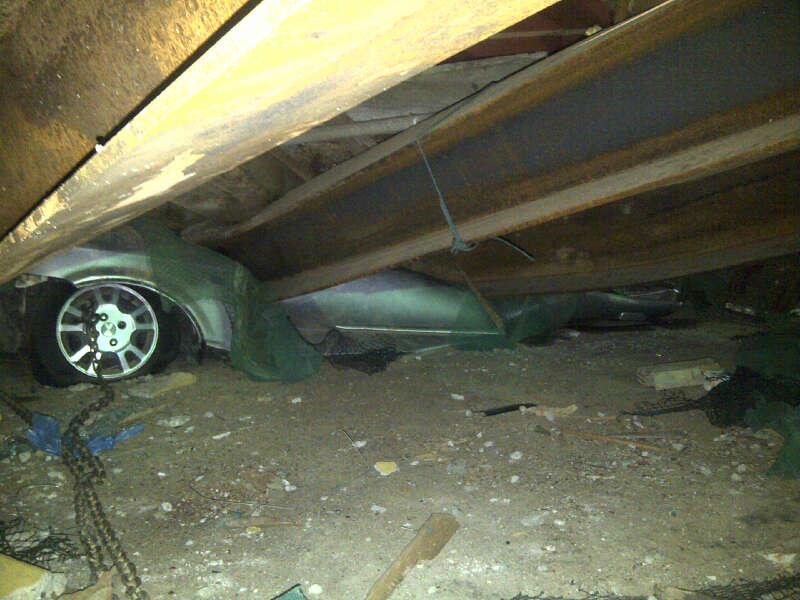 Al-Fatihah to Rohaizad Md Sofar.
Pemilik kereta yang terperangkap di dalam runtuhan dikenal pasti
Jun 07, 2013

Jurucakap polis berkata bagaimanapun polis tidak dapat mengesahkan sama ada Rohaizad, 43, yang beralamat di Sungai Dua, Gelugor di sini, adalah mangsa yang masih tersepit di dalam kenderaan itu.
"Kita meminta kerjasama semua pihak yang mengenali pemilik kenderaan itu untuk membantu siasatan bagi mengenal pasti mangsa," katanya.
Mangsa bagaimanapun belum dapat dikeluarkan lagi dari kereta itu dan kerja mengalih sisa tanjakan konkrit yang telah dipotong itu sedang giat dijalankan.
Semalam, runtuhan penyambung susur keluar Jambatan Kedua Pulau Pinang di Lebuhraya Tun Dr Lim Chong Eu di Batu Maung itu menghempap sebuah kereta dan seorang mangsa dipercayai terperangkap di dalam runtuhan itu.
Dalam kejadian itu, dua bahagian konkrit iaitu 180 ton konkrit keras dan 100 ton konkrit lembut runtuh secara tiba-tiba dan menghempap sebuah kenderaan.
Tiga orang iaitu dua pekerja asing dan seorang wanita tempatan cedera dalam kejadian itu.
Sementara itu, kerja mengangkat sisa runtuhan tanjakan konkrit yang dipotong sedang giat dijalankan oleh pasukan penyelamat di kawasan kejadian.
Jurucakap bomba berkata runtuhan tanjakan konkrit dan besi itu terpaksa dipotong lebih kecil bagi memudahkan kerja mengalih dan mengangkut dilakukan.
Katanya setelah runtuhan tanjakan itu dialih, barulah bomba dapat mengeluarkan mangsa yang tersepit di dalam kereta akibat dihempap tanjakan konkrit itu.
Beliau berkata lebih 300 anggota pasukan yang terdiri daripada polis, bomba, Jabatan Pertahanan Awam, pekerja syarikat pembinaan dan kontraktor sedang bertungkus-lumus mengalihkan runtuhan konkrit dan besi seberat beratus-ratus tan itu. — Bernama
GEORGE TOWN, 7 Jun — Polis mengenal pasti pemilik kereta jenis Perodua Kelisa yang terperangkap di dalam runtuhan akibat dihempap oleh tanjakan konkrit susur keluar Jambatan Kedua Pulau Pinang di Batu Maung di sini sebagai Rohaizad Md Sofar.
Read the posting here by Curi-Curi Wang Malaysia on Jambatan Kedua Sdn Bhd, the concessionaire for Second Penang Bridge and all the lies that BN spin:
https://www.facebook.com/photo.php?fbid=505169766215437&set=a.505169739548773.1073741862.159764004089350&type=1&theater